Backyard Brews & Boos 2023
Join us again for our spooky October Brews & Boos Event!
---
Tuesday, October 24, 2023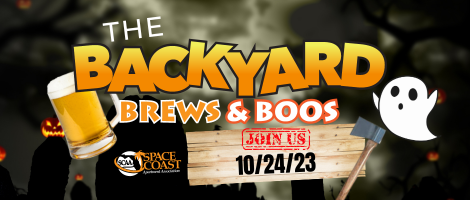 SCAA APAC Fundraising Event!
We are so excited to announce our THIRD Backyard, Brews & Boos Event!
Your attendance at this event helps to support APAC!
The apartment industry's continued success depends on the financial strength of APAC.
The Florida Apartment Association Apartment Political Action Committee (APAC) is committed to preserving and advancing its members' interests through political advocacy at the state and local government levels.
Since 1971, APAC has helped to elect pro-multifamily industry candidates from across Florida. The purpose of APAC is simple: to raise funds and elect candidates who understand and support our issues and interests.
The Backyard
Our chosen venue offers adult games such as cornhole, axe throwing, pool, and much more! Attendees will have exclusive access to games for 4 hours!
Food!
Buffet and soft drinks are included with your ticket purchase.
Axe throwing contest!
You pay $10 to throw the axe eight times. If you hit the bullseye five times or more, you will be entered for an opportunity to win $500 cash!
Costume Contest!
It isn't spooky season without a costume contest! Best costume wins a prize!
Wine/Bourbon Pull!
We are accepting donations for wine and bourbon again this year! Each bottle must retail at $25 or more! Attendees can purchase a $25 raffle ticket to win a nice bottle of wine, or a $30 raffle ticket to win a nice bottle of bourbon. ALL PROCEEDS GO TO APAC
Sponsorship Opportunities
Please visit the event registration page, or email chelsea@scaafl.org for more information!
For More Information: